HELP FOR SENIORS
For assistance, call
863-220-7002
or 863-866-8174
The phone is staffed by part-time volunteers, so you may need to leave a message via voicemail–someone will get back to you as soon as possible.
Mail: 934 South Blvd, Lakeland, FL 33803
Office: 934 South Blvd, Lakeland, FL 33803
RathSrConnextions@gmail.com
https://www.facebook.com/RathSeniorCenter/
RATH CENTER
BOARD OF DIRECTORS

Executive Director:
Rosemarie S. Lamm, Ph.D., A.R.N.P.
Directors:
Gail Bagley
Robert Baum, PhD
Jean Berkin
Charles Burdette, Resource Specialist
Barbara Cage
Andy Crossfield
Joe Echols, Treasurer
Glen Jones
Sharmalee Jones
Sandie McRory, President
Lanet Owen, Secretary
Amanda Porter
Teresa Reiter
Michelle Shiver, Vice President
Officers 2023

  
Sandie McRory, 

President
Michelle Shiver, Vice President
Lanet Owen, Secretary
Joe Echols, Treasurer
Advisory Council
Danielle Clinton
Liz Craven
Amy Dubose
Dr. Fred Gifun
Georgiana Goodson
Robert Groover
Richard Isinghood
Nicole Ramer
Amanda Porter
Nicole Ramer
Charlotte Thomas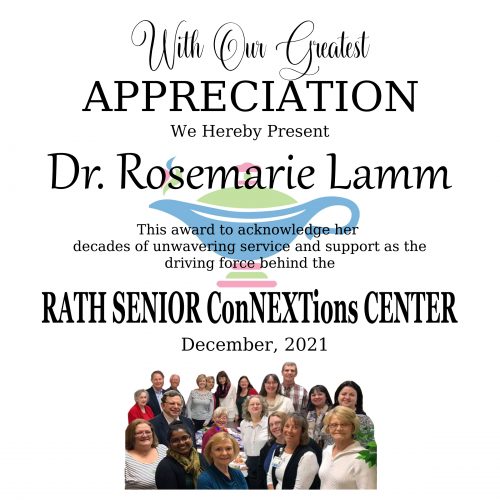 Tuesday, June 13, 2023, 9:00 AM
The Rath Senior ConNEXTions Center
PRESENTS
Jody Streussnig
Alzheimer's Association Program Manager
During her presentation she will discuss the prevalence and statics related to Alzheimer's and dementia in Florida and Polk County specifically, caregiver statics, understanding the difference between Alzheimer's and dementia, warning signs, modifiable factors that may reduce your risk of developing the disease, helpline and online resources, volunteerism, and Walk to End Alzheimer's.
Monthly Educational Meeting
This meeting will be held at the Rath office located at College Heights United Methodist Church, 934 South Boulevard, Lakeland, FL 33803.
We hope you'll join us in person, but if you wish to join us via Zoom, here is the link:
 Rath is inviting you to a scheduled Zoom meeting.
Topic: Rath Monthly Meeting
Time: June 13, 2023, 09:00 AM Eastern Time (US and Canada)
Join Zoom Meeting:
Meeting ID: 816 6299 6197
Passcode:   958780
If you have any questions, please call or email our office, 863-688-8174.